Every discerning nomad needs to know how to travel light these days. To ensure you're well prepared for every plane trip, these are some of our lightest carry-on luggage options.
Victorinox - Werks Traveler Suitcase
Designed by Swiss brand Victorinox, the Werks Professional Traveler Suitcase is practical and classically stylish. Its front stash pocket can keep your visa, passport and other important paperwork within easy reach.
Trying to manoeuvre your luggage into a crowded overhead compartment can be tricky, but the Werks Traveler Suitcase's compact size makes light work of tight spaces. To keep your belongings in place, it comes with elastic cross ribbons, a divider pad and a zippered compartment.
Measurements
Weight - 2.4kg
Capacity - 45L
Samsonite - Lite Shock Suitcase

As the lightest bag in Samsonite's Curv collection, the Lite Shock Carry-On Suitcase is perfect for weekends away. If you need to ferry fragile valuables across the skies, its tough exterior offers superior protection. Made in Europe, this suitcase is packed with functional features, including 360o spinner wheels and a 3-point TSA combination lock.
Measurements
Weight: 1.7kg
Capacity: 36L
Caribee - Skymaster Backpack

If you want to be sure your cabin bag has the right measurements, the Skymaster Backpack by Caribee is an officially approved Australian domestic carry-on size. Offering practicality and comfort, it comes with concealable rear shoulder straps, a roomy main compartment and an easy-access front pocket. To keep your valuables secure, the Skymaster's zips are also lockable.
Measurements
Weight: 1.2kg
Capacity: 40L
Antler - Juno Small Hardside Suitcase

The Juno Small Hardside Suitcase is lightweight, impact-resistant and stylish. Made from durable polypropylene, its exterior features an eye-catching rippled texture and recessed components. Available in several striking colours, this suitcase is ideal for chic jetsetters. The Juno Small Hardside Suitcase is fitted with all the high-quality features Antler is renowned for, including 360o rotating wheels, a fixed TSA combination lock and interior packing straps.
Measurements
Weight: 2.4kg
Capacity: 40L
Samsonite - S'Cure Suitcase

The S'Cure Suitcase is made from Flowlite, a type of lightweight thermal plastic. A Samsonite innovation, this material is strong enough to deflect damage without weighing you down. Fitted with multidirectional wheels and a multistage pull handle, the S'Cure is also easy to manoeuvre. Whether you're running through the airport to catch your plane or wheeling your bag across bumpy sidewalks, it can handle all kinds of surfaces and sharp corners.
Measurements
Weight: 2.9kg
Capacity: 34L
Samsonite - Base Boost Suitcase

Need a lightweight bag for your next business trip? With its polished exterior, the Base Boost Suitcase can add sophistication to any corporate outfit. Designed by Samsonite, it offers exceptional quality and smart features at a budget-friendly price. The 2-wheel design means you won't have to worry about your bag rolling away or overbalancing while you're busy checking in for your flight. It also comes with interior mesh pockets and compartments for easy organisation.
Measurements
Weight: 2kg
Capacity: 34 - 37L
High Sierra - Composite RFID Wheeled Duffle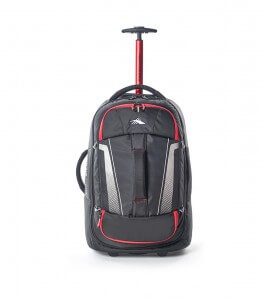 The High Sierra Composite RFID Wheeled Duffel features a unique 3-in-1 design. It can be used as an upright bag, a backpack or a duffel bag, providing travellers with plenty of versatility. Fitted with smooth rolling wheels and a telescoping handle, its exterior components allow for effortless portability. To keep your financial data secure, simply stash your credit cards in the backpack's RFID pocket (RFID technology can prevent scanning devices from reading your credit card details). If you encounter any rough terrain during your travels, the bottom of the bag comes with corner guards and a rear kick panel to protect against abrasions.
Measurements
Weight: 2.3kg
Capacity: 37L
Pacsafe - Venturesafe RFID Anti-Theft Backpack
In terms of security, the Venturesafe RFID Anti-Theft Backpack by Pacsafe is one of our best lightweight carry-on luggage selections. Compact and comfortable, it also comes with a range of high-tech security features, including:
Carrysafe® Slashguard Straps to protect against slash-and-grab thieves
RFID pockets
Smart zippers
Turn-and-lock security hoops.
If you like to keep your laptop handy while you travel, the Venturesafe backpack also has a padded 15-inch MacBook compatible sleeve.
Measurements
Weight: 700g
Capacity: 25L
Samsonite - Octolite Suitcase

Boasting cutting-edge features and a futuristic design, the Samsonite Octolite Suitcase proves that travelling with just carry-on luggage doesn't have to be a struggle. Its lightweight yet durable structure can keep your belongings safe, while its roomy interior has enough space for a generous amount of clothes and toiletries. The suitcase's interior has multiple pockets to help you better manage your belongings, ensuring a well-organised trip.
Measurements
Weight: 2.5kg
Capacity: 35L
Pelican - Elite Carry-On Luggage

The Elite Carry-On Luggage by Pelican is no ordinary cabin case. Made from hardwearing polypropylene, it comes with an enhanced travel system containing a lid organiser, a toiletry kit and a zippered shoe sack. Designed to maximise interior space, all the case's components have been recessed, including the carry handles, latches and TSA combination lock. If you need to fly with fragile items, the Elite Carry-On Luggage has you covered.
Measurements
Weight: 4.17kg
Capacity: 28L
Now you know where to find our lightest carry-on luggage, why not make the most of your new bag? Check out our blog post on 4 Sunny Cities to Visit with a Carry-On to inspire your wanderlust.