Whether you're travelling for business or leisure, practical travel accessories make every journey easier - particularly if the whole family is in tow. Prepare in advance with the right travel equipment to ensure you can handle any inconveniences along the way.
Take these must-have travel essentials with you the next time you fly, or keep them in mind as gift ideas for the holiday season.
Travel Must-Haves for Him
1. Go Travel Bag Packers
Packing is super easy with this 3-piece luggage organiser. It's available in 4 different colours and features small, medium and large packers secured by zippers, so you can arrange your belongings accordingly. Breathable mesh fabric prevents the spread of mould, and the clear window slots make it easy to identify the contents of each packer so you can find what you're looking for quickly.
2. Pacsafe Instasafe Anti-Theft Crossbody Bag
Ideal for business trips, this bag's advanced security features are sure to keep your work essentials safe. The RFIDsafeTM blocking pocket protects your electronics and credit cards from skimming devices, while the eXomesh® slashguards and RoobarTM locking system add an extra layer of protection.
3. Pacsafe RFIDSafe Wallet with Chain
This Pacsafe wallet is the perfect gift for anyone about to embark on an overseas holiday. Featuring RFIDTM material and turn and lock security hooks, it's completely guarded against potential thieves. The wallet comes with a detachable metal chain that can be secured either to a belt loop or the inside of a bag to dissuade pickpockets.
Travel Must-Haves for Her
1. Delsey Chatelet Air Beauty Case
This divine beauty case has enough storage space for all your skincare, haircare and makeup products. Functional and chic, its strong and sturdy structure will keep your personal items safe during travel, and the smart internal organiser is perfect for makeup storage. Suited to quick trips and longer journeys, it's a great option for style-savvy travellers.
2. Pacsafe Daysafe Anti-Theft Slim Crossbody Bag
Stylish and practical, this crossbody bag is ideal for day trips in foreign destinations. The slashproof carrysafeTM shoulder strap and RFID blocking pocket will stop thieves in their tracks, and the interior is smartly designed with a padded tablet compartment and an organisation panel.
3. Go Travel RFID Organiser
This organiser is perfect for storing all your travel essentials. It'll keep your passports, money and cards in one place and protected from thieves thanks to the RFID blocking material. There's plenty of room for your travel documents and plane tickets, so you won't have to rummage through all the different compartments in your bag to find them.
Travel Must-Haves for the Kids
1. Samsonite Convertible Travel Pillow
These adorable accessories double as a cuddly friend to play with and a comfy travel pillow for long-haul flights. Filled with soft beans, the U-shape offers both comfort and support. They're great for keeping the kids entertained and comfortable during every journey!
2. Kids Bagz Wheel Trolley and Backpack Set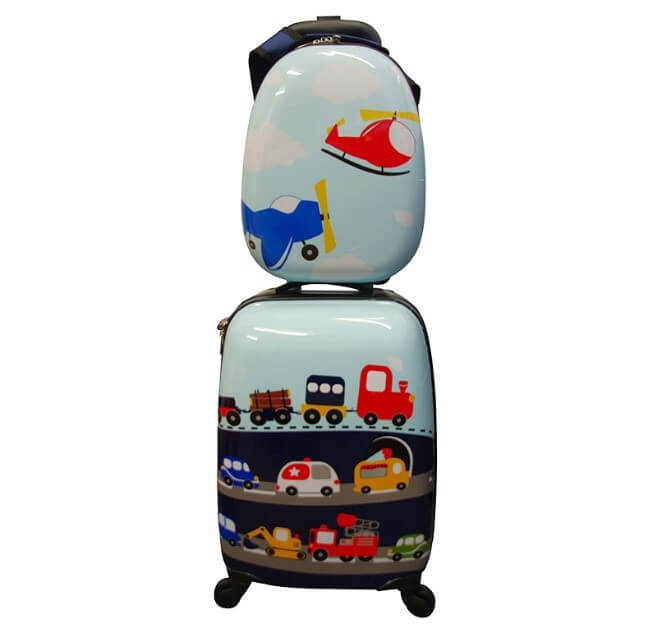 In search of a new suitcase for your little one? Look no further than this lightweight 2-piece luggage set. Made from tough polycarbonate, its sturdy exterior can withstand being knocked around. The cabin-sized bag has enough space to pack everything your children will need to stave off boredom during long flights, and the 4-wheel trolley's interior comes with a divider for easy organisation.
3. Disney Comic Wallet
A great stocking-stuffer idea for Christmas, the Disney Comic Wallet is a neat accessory for kids to take on holidays. Fitted with compartments for cards, coins and notes, they can keep all their spending money stashed in this cute wallet.
Travelling is made easier and more enjoyable with the right luggage and accessories. If you're still stuck for Christmas gift ideas, browse the Bags To Go collection of travel accessories for inspiration..