Need a new piece of luggage for your next trip away? Who says you have to choose between packing space and the convenience of travelling with a daypack? Whether you're trekking through Europe or hiking in the Himalayas, a travel backpack with a detachable daypack can make any trip easier.
The mechanism that allows for detaching and reattaching a daypack eliminates the challenge of having to carry multiple items of luggage at once. With less bags to worry about, you can keep your hands free and your belongings conveniently stashed in one place. A range of Bags To Go backpacks come with this nifty feature, including the following styles:
BlackWolf Cancun
If you're travelling on a budget, the BlackWolf Cancun offers maximum convenience at backpacker-friendly prices. BlackWolf has been making outdoor adventure gear for over 2 decades, so you can be confident you're investing in a quality product.
Designed for hiking trips, the Cancun offers both comfort and practicality. Attached via a zipper and plastic clips, the removable daypack feature is easy to use. When you need to detach it, simply unzip it and away you go. The Cancun also comes with a hardwearing exterior, compression straps, an internal organiser and padded shoulder straps.
The BlackWolf Cancun is available in Black, Red, Blue and Lime, and can be purchased in 70 or 80 litre sizes.
BlackWolf Grand Tour
Combining elements of a wheeled suitcase, backpack and daypack, the BlackWolf Grand Tour is the ultimate luggage hybrid. The daypack blends in seamlessly with the Grand Tour's overall design, but can easily be removed if need be. In addition to being detachable, the daypack also comes with the following features:
2 separate compartments
A padded internal pocket
An internal organiser
Lockable zips
A night reflective daisy loop
Protective webbing.
Different carry options add to this bag's versatility - it can either be wheeled on its all-terrain 4WD wheels, slung over your shoulder or carried like a suitcase. The Grand Tour is also RFID protected, preventing high-tech thieves from stealing your credit card details. It comes in a range of different colours, including Magenta, Black and Blue.
Caribee Fast Track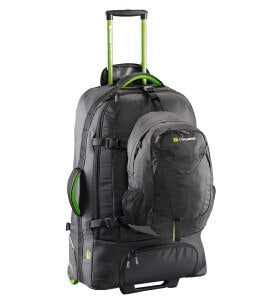 The Caribee Fast Track wheeled backpack may be one of our larger pieces of luggage, but this bag's lightweight construction means it won't weigh you down. The main backpack has plenty of room for all your travel essentials, while the detachable daypack is ideal for carry-on luggage.
Are you planning to spend a lot of time outdoors during your trip? Both the main backpack and daypack are coated in a water-resistant material. Even if it rains, this feature can keep the contents of your bag from getting wet. There's even a shoe pocket at the base of the bag (for separating your clothing from your footwear).
The Fast Track's hip and lumbar support makes heavy loads much easier to carry, even when it's filled to capacity. The straight-tube aluminium structure is so effective at reducing weight, you won't even notice you're carrying a detachable daypack.
High Sierra Composite
The High Sierra Composite is one of our most popular travel backpacks with a detachable daypack. Featuring a fully adjustable harness system, people of all shapes and sizes can feel comfortable carrying this backpack.
The detachable backpack has a capacity of 16 litres, RFID protection and a side mesh water bottle pocket. If you happen to get caught out in bad weather, the tucked-away rain cover can be used to shelter your bag from the elements.
The Composite range features 2 different sizes - 80L and 65L.
Can't decide which backpack would best suit your travel needs? Visit your nearest Bags To Go store to speak with one of our expert team members about the different options available in our product range.