Mother's Day is a time to show our mums how much we appreciate all they do for us. But it can be tricky choosing a unique gift you know your mum will adore. Instead of flowers or chocolates this year, why not gift your mum a beautiful accessory made to last? Any of the following luggage options would make a great Mother's Day gift:  
1. IT Oasis Suitcases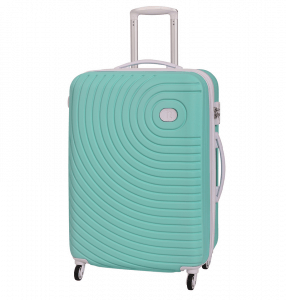 For mums who love to travel, a suitcase is both a practical and thoughtful gift. The IT Oasis range is beautifully designed and comes in a variety of stylish colours so you can find the perfect shade to suit your mum. The luxury detailing paired with durable material makes it a functionally chic suitcase for her to rock on any adventure.
Shop now - From $119.00
2. Milleni Soft Italian Leather Handbag
A handbag is always a popular gift, and your mum will really appreciate one as beautifully crafted as the Milleni leather handbag. Made from silky soft Italian leather, this handbag will never go out of style. It's the perfect companion for work, travel or a day out shopping.
Shop now - From $99.00
3. Samsonite Karissa Swarovski® Crystals Backpack
A classic backpack with a twinkling of pizazz, this gorgeous bag is the ideal accessory for a mum who loves to look casually stylish when on the go. Embellished with Swarovski® crystals and an internal organisational pocket, it's the perfect mix of practical and pretty.
Shop now - $135.00
4. Samsonite Boulevard Tote Bag
Is your mum's work bag looking a little worse for wear? Update her corporate look with this super smart tote bag. The bag includes a laptop and tablet compartment, filing section, and an internal organisational pocket so your mum can keep her daily essentials within easy reach when commuting to and from work.
Shop now - $107.40
5. Serenade Holiday Leather Handbag
If your mum loves bold colours, she'll adore this vibrant-looking handbag. This bag is made from genuine leather for durability and has a generously sized interior for mums who can't help but pack everything except the kitchen sink.
Shop now - $199.95
6. Samsonite Promenade Coin Purse
Encourage your mum to bring only the bare essentials for weekend outings with this stylish and trendy coin purse. The warm-toned colouring gives a look that's both elegant and easy to match with any outfit. This purse is so pretty and practical you'll want one for yourself!
Shop now - $47.95
7. Serenade Cannes RFID Wallet
We know mums love a wallet with plenty of room, which makes this large Serenade wallet the ideal gift for Mother's Day. Made from genuine cowhide leather and fitted with RFID protection, this stylish accessory will last for years to come.
Shop now - $79.95
8. Delsey Montmartre Garment Bag
A garment bag is a unique and thoughtful gift for a mum who travels frequently for work. The simple yet functional design will keep her garments wrinkle-free when on the move, so she won't have to fret about a creased blouse before a big presentation.
Shop now - From $89.40
Having trouble finding a gift that complements your mum's unique style? Check out the Bags To Go range of chic handbags to find the bag that best suits her - or better yet, let her choose her own!