When it comes to laptop bags, women often have to choose between style and practicality. If you're in search of a laptop bag that can carry all your essentials without tarnishing your style cred, Bags To Go has you covered.
Whether you're flying interstate for a conference, schmoozing with clients or heading to university, we have bags to suit every occasion and every type of laptop. Throw away that drab old laptop case you've been lugging around for years and check out the following styles:
Samsonite - Avant 15 Inch Backpack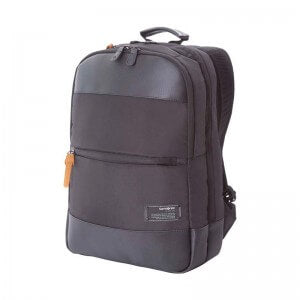 The perfect laptop bag for chic businesswomen, the Avant 15 Inch Backpack is both sophisticated and functional. Its minimalist design comprises a blend of casual and contemporary style, making it suitable for both corporate environments and more casual settings.
The Avant's most notable features include a padded laptop compartment, multiple pockets for easy organisation, adjustable straps and a lightweight structure. It weighs just 0.8kg and has a capacity of 17L.
Samsonite - Boulevard Small Backpack
Fashioned from a black nylon material with gunmetal grey details, the Boulevard Small Backpack can add a touch of sophistication to any outfit. If you like to keep your work materials neat and tidy, this backpack comes with a file section for paperwork, compartments for easy organisation and a sleeve to keep your tablet safe.
Suitable for work, school or your daily commute, the Boulevard Small Backpack's 16.5L capacity offers plenty of space for all your bits and bobs.
Samsonite - Mover LTH Leather 15.6 Inch Laptop Backpack
If you love genuine leather accessories, the Mover LTH Leather Backpack is one of our most stylish women's laptop bags. This backpack's classic design blends in seamlessly with modern workplaces. It's elegant enough to take you from the office to an after-hours event, so you can use the same accessory throughout the day.
Fitted with a file section, tablet compartment and a stabilising smart sleeve, the Mover LTH Leather Backpack isn't just stylish - it also offers an exceptional standard of comfort and convenience. It weighs just 1kg and has a capacity of 16.5L.
Victorinox - Werks 15 Inch Backpack
Designed by Victorinox, the Werks 15 Inch Backpack is busting with cool features. It features an assortment of pockets (including a 25cm portable electronic pocket), a key fob, a padded back panel and adjustable shoulder straps for superior comfort.
The backpack's multi-compartment design was made for organised travel. Rather than trying to squash all your paperwork and devices into the one compact compartment, this backpack has dedicated spaces for all your stuff.
If you like to travel light, the Victorinox Werks 15 inch Backpack has a 17L capacity and weighs just 1kg.
Pacsafe - Slingsafe LX200 Anti-Theft Tote
Chic and secure, the Pacsafe Slingsafe LX200 Anti-Theft Tote is an ideal laptop bag for style-savvy ladies. Its roomy interior has an 11Inch MacBook compatible sleeve and an easy-access, RFID protected pocket for smaller items. The padded tote handles allow for multi-wear options, so you can adjust your bag to suit your style and comfort preferences.
To keep your laptop from getting stolen, the LX200 Anti-Theft Tote has a dual-release security buckle. This feature is designed to deter thieves by keeping your valuables safely locked away and out of sight. Weighing 375g, this is one of the lightest laptop bags available. It has a 14L capacity, offering an exceptional size-to-weight ratio.
Pacsafe - Slingsafe LX250 Anti-Theft Tote
The Slingsafe LX250 Anti-Theft Tote has a range of cool security features. Its Carrysafe slashguard strap can guard the contents of your bag from slash-and-grab thieves, while the RFID blocking pockets offer protection against credit card scanning devices. Other handy features include a 13 inch MacBook compatible sleeve, lockable zippers, a quick access front pocket and a purse attachment ring.
Despite being the larger Slingsafe Anti-Theft tote with a capacity of 18L, this laptop bag also weighs just 375g.
If you like the look of these laptop bags, check out our entire laptop bag range (with styles for both men and women) to find the perfect travel accessory today. If keeping your information is an absolute necessity, check out the ultimate guide to choosing the best anti-theft backpacks.