4WD adventures are just that - adventures you can only tackle with the help of a trusty 4WD vehicle. Typically, 4WD journeys cover tough terrain where an ordinary 2WD car would be left bogged, stuck, or broken.
Embarking on a 4WD adventure is a great way to get off the beaten track. All the hassle and distractions of city life can be left behind as you explore a beautiful, secluded part of the world. In particular, a part of the world off-limits to those without the right vehicle.
But no 4WD trip counts as an adventure unless you're given a proper challenge. 4WDing is no walk in the park - that's the bit you get to enjoy after navigating tough terrain, narrow tracks, intimidating slopes and constant bogs. These challenges are what separate 4WDing from sightseeing - it's a difficult yet fascinating way to engage with nature.
Once you arrive at the beautiful, mud-less plains you've been searching for, you can set up camp and really take in your surroundings. Forget about dodgy campsites that place you 3 metres from your neighbours - having a 4WD means you can escape the crowds and find tranquil destinations. There's absolutely no better way to appreciate the outdoors.
That isolation is one of the most appealing aspects of taking a 4WD trip. No computers, no social media, no TV, no internet - you can disconnect from the virtual world, and reconnect with the real one.
Best 4WD Tracks in Australia
Our vast, largely uninhabited nation has some of the greatest 4WD tracks on the planet. Australia's unique blend of mountain ranges, sandy deserts and dense rainforests are perfect for any avid 4WD enthusiast. If you're looking for the perfect 4WD adventure, these tracks are worth checking out:
Ingeegoodbee Track (VIC)
Any Victorians looking to put their 4WD to the test need to explore the Ingeegoodbee Track. Graded as a particularly difficult track, it can only be accessed at certain times of the year. This tough, rocky pass calls for a 4WD with high clearance, but boasts some incredible locations for fishing, swimming and bushwalking.
Time required - 1 day
Distance - 99km
Best time to travel - Summer (only on dry days)
Activities - bushwalking, fishing, swimming.
Gibb River Road, The Kimberley (WA)
When you picture 4WDing in Australia, images of red dusty roads, tough crossings and the outback probably come to mind. Gibb River Road offers the modern-day equivalent of classic outback exploration, taking you through some of the most scenic and historical landmarks this country has to offer. You'll find the old hiding places of Jandamarra, an Aboriginal bushranger who lived in the late 1800s, and some natural swimming holes.
Time required - A few days for a complete exploration
Distance - 654km
Best time to travel - Autumn to spring, avoiding wet weather.
North Stradbroke Island (QLD)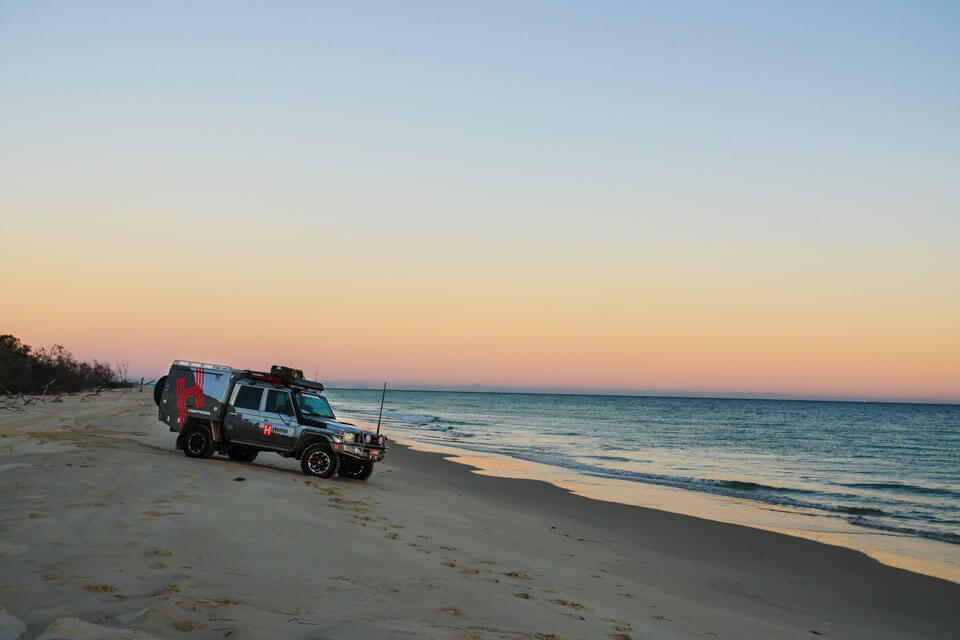 North Stradbroke Island's balmy weather and laidback culture make for a perfectly relaxing holiday (or a great adventure). 4WDing enthusiasts will love the challenge of driving through soft sand - just be sure to set your tire pressure down below 20 PSI. The beaches are closed to driving an hour either side of high tide, but if you're forced to pull over at least you'll have spectacular scenery to enjoy.
Time required - Half-day to a full day
Distance - 53km
Best time to travel - All year.
Corryong to Tom Groggin (NSW)
This beautiful run is the ultimate all-rounder. It's rare that a single 4WD adventure will take you through thick rainforest, tough vertical climbs, classic Australian bushranging history and watery overpasses. You'll even find a hut once inhabited by great Australian poets of the past, and the lands which inspired 'The Man from Snowy River'.
Time required - Half-day
Distance - 151km
Best time to travel - Summer (the road is closed through winter)
Googs Track (SA)
This beautiful picnic location is certainly no picnic. Adrenaline-seeking 4WD experts will enjoy navigating the steep sand dunes found throughout the surrounding landscape. And unlike most tracks in Australia, this really is a test for both the car and driver. There's no fuel, no water, no supplies at all to be found along the way. If you're in search of an unconventional holiday destination, look no further.
Time required - 2 - 3 Days
Distance - 353km
Best time to travel - May - October (best to avoid during summer)
Not into 4WDing? There are plenty of other ways to spend your days off. Check out our favourite retreats around
Brisbane
,
Adelaide
and
Melbourne
to start planning your next trip away.