Are you craving rest and relaxation? You don't always need a 3-week holiday to unwind and escape the stress of your daily routine. Whether you want to sleep under the stars or treat yourself to a little luxury, getting away for the weekend can work wonders for your productivity and motivation.
To help you make the most of your time off, we can tell you where to find the best weekend escapes near Brisbane. All these destinations are located within a 2-hour drive of the city so you can easily make it back in time for work on Monday.
Nightfall Luxury Tent Camping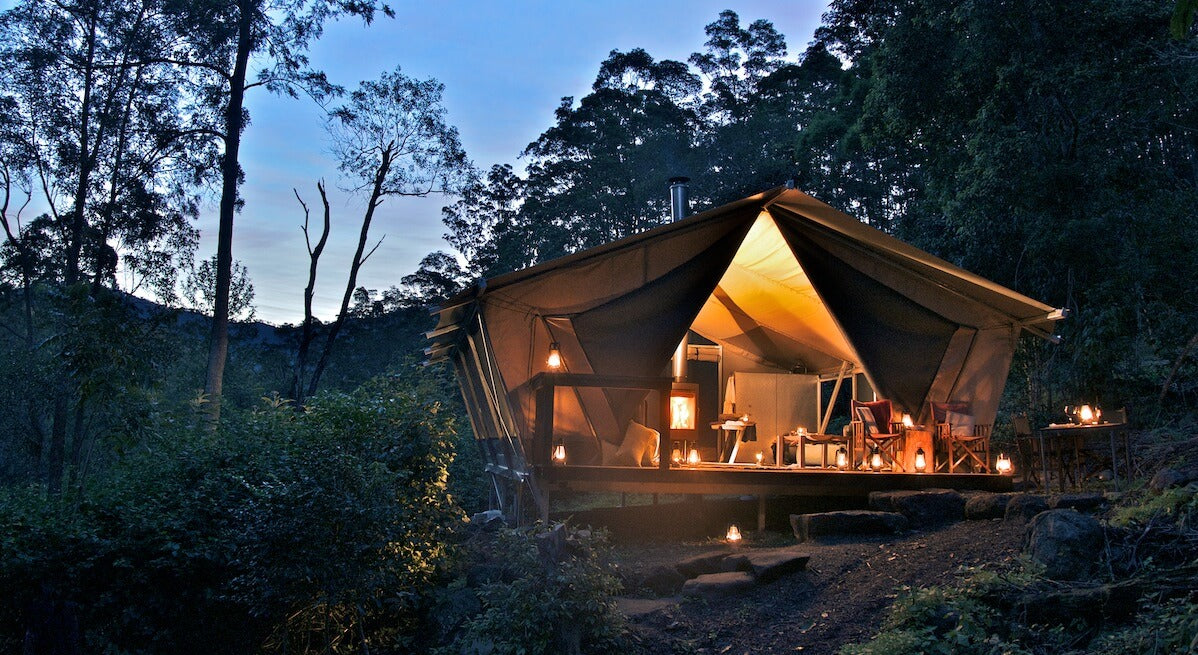 Enjoy getting back to nature but can't deal with the bugs and dirt that often come with sleeping outdoors? Nightfall Luxury Tent Camping offers the perfect solution. Surrounded by lush rainforest and waterfalls, this safari-style glamping retreat promises an unrivalled standard of comfort. Hidden in the Gold Coast Hinterland, it's just a 120-minute drive from Brisbane.
The hand-built timber and canvas tents are fitted with fireplaces, luxurious beds, vintage baths and a range of other comfortable amenities. Following pre-dinner drinks, fire-cooked cuisine is served under the stars every night. Planning a weekend away with someone special? For an added touch of romance, private tents are available to couples. To preserve the campsite's intimate and peaceful atmosphere, bookings are limited to small groups of travellers at a time. Be sure to secure your place well in advance to avoid missing out on one of the most luxurious weekend escapes near Brisbane.
Greenlee Cottages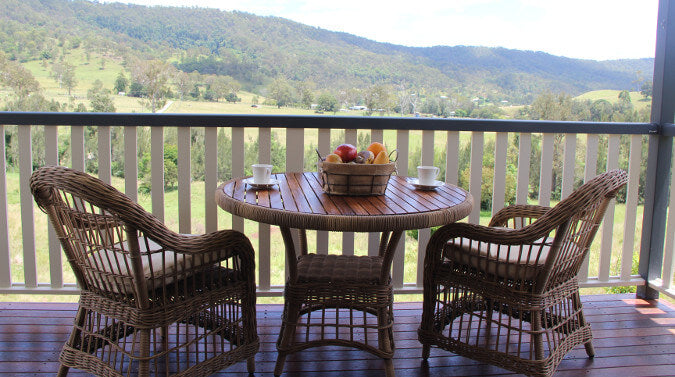 Greenlee Cottages can be found just outside of Canungra, a small town in the Scenic Rim region. Overlooking the Canungra Valley, this beautifully situated macadamia farm provides the perfect backdrop for a weekend in the countryside. Filled with the distant sound of Canungra Creek bubbling and complete with rustic comforts, no destination is better suited to families in search of a relaxing weekend away.
Home to an abundance of wildlife including birds, kangaroos and koalas, Greenlee Cottages takes around 90 minutes to reach by car from Brisbane. You can spend your weekend visiting wineries, hot air ballooning, browsing the local markets or simply soaking up the scenery.
Worendo Cottages
Situated on a ridge above Lamington National Park, Worendo Cottages boasts well-appointed accommodation amid a stunning natural setting. Whether you want to stay in a rustic homestead or a treehouse cottage, this comfortable farm-stay retreat is perfect for families, big groups and couples.
Worendo Cottages is famous for its culinary delights. To experience a gourmet getaway, visitors can enrol in the Wild Lime Cooking School which holds culinary classes throughout the year. There's also a wealth of other fun activities to discover such as animal feeding, fishing, lawn games and hiking.
Spicers Tamarind Retreat
Set high in the Sunshine Coat Hinterland, Spicers Tamarind Retreat takes luxury to new levels. It can be found in the heart of the rainforest, just a stone's throw from Gardiners Falls. East meets West in this Asian-inspired retreat, allowing guests to experience a unique blend of comforts and cultural influences.
The retreat's attractions include rainforest walks, cooking classes, food and wine tours and golfing facilities. For a meal you'll never forget, be sure to try the signature Asian dishes served in the Tamarind Restaurant.
Binna Burra Lodge
Built in the 1930s, Binna Burra is a heritage-listed lodge perched 800 metres above sea level in Lamington National Park. Encircled by an ancient beech forest, it has spectacular natural features and large numbers of native wildlife. The lodge's location may sound isolated, but it's only a 90-minute car ride from Brisbane.
To experience a sense of freedom and peace you just can't find in the city, pay a visit to Binna Burra Lodge.
Now you know where to spend your weekend escapes in Brisbane, you can start planning your next trip. Make packing a breeze by finding the perfect piece of luggage at your nearest Bags To Go store.