Long flights can be a stressful ordeal to endure, particularly when it comes to trying to rest comfortably and get something that resembles a decent sleep. As most airplane seats aren't ergonomically designed for sitting long hours without causing neck pain, the popularity of using travel pillows has increased over the years. These days, travelling with a neck pillow is a must in order to enjoy a smoother, more comfortable flight.
Benefits of a neck pillow
There are many reasons why a neck pillow can come in handy on long flights. Firstly, your travel pillow will help combat any neck or jaw pain caused through poor positioning while you sleep. They also help with your spine's alignment due to the upright, straight posture they enforce.
By cushioning your head, a neck pillow can help you fall asleep and fight the usual fatigue caused by uncomfortable plane seating. Their lightweight and compact design also means they can easily fit in your carry-on luggage. Easy to wash and keep in good condition, a travel pillow is the ultimate low-maintenance travel accessory.
Apart from airplane travel, neck pillows can also be used in cars, trains, boats, or even in the comfort of your own home.
Types of travel pillows
There are a wide variety of travel pillows available to fit any preference. We'll explore each style and discuss their pros and cons so you're sure to pick the best pillow for long haul flights.
Memory foam travel pillow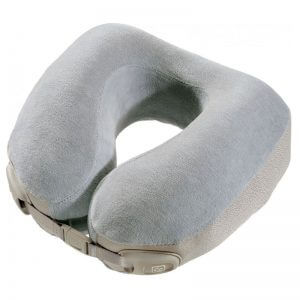 Memory foam pillows are made from high-density memory foam that can match the pressure put against it while retaining its original shape.
Pros:
Provides a consistent and firm neck support for the user
Many designs can be condensed and stashed away when not in use
The custom-fit structure will form to your individual neck and back shape
Recognized as the most comfortable by Choice.
Cons:
Inflatable travel pillow
Inflatable travel pillows are specifically designed to be blown up and deflated for easy storage.
Pros:
Will fold down easily to a tiny size
Perfect for travelling light as it's ultra-light and compact
Inexpensive to purchase so it's ideal for budget travellers.
Cons:
Material isn't always the nicest or softest - though some makes come with a fabric cover for added comfort
They can deflate during use if the seal isn't properly closed
The support isn't as firm or consistent as the memory foam pillow.
Micro bead neck pillow
Micro bead neck pillows are filled with small polystyrene beads that create a squashy feel for fitting cosily around the neck.
Pros:
Cons:
Has been named the least comfortable make by Choice
Doesn't sit high on the neck
The beads can move around and create dips that may cause discomfort
The type of fabric used can stretch over time.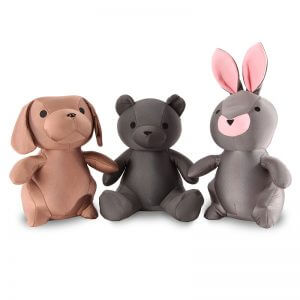 If you're travelling with children, and looking for the best neck pillow to keep your little ones comfy and help them sleep, they'll love these fun convertible travel pillows which transform into cuddly toy animals in an instant!