Forget neutral tones and nude shades: red is topping the list of fashion trends in 2018. Eye-catching no matter how you wear it, red is always a bold hue to rock. A striking red bag adds the perfect splash of colour to any outfit or look, whether you're heading out to the office, or jet-setting off on an adventure.
If you need a little help finding the perfect red tote bag, red leather purse or red luggage set, we've put together a selection of statement red bags for you to choose from. These pieces are ideal for work or travel, so you can look trendy in every setting.
Pacsafe RFIDSafeTM Red Travel Wallet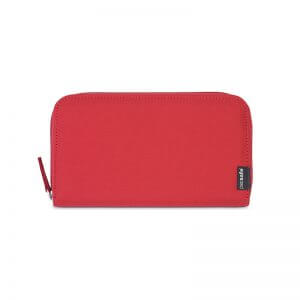 This dazzling red travel wallet is ideal for overseas trips. With eight card slots, a zippered internal coin pocket and two open slit pockets, it's great for storing foreign currency, travel documents and travel cards in one convenient place. With identity theft being a prevalent concern for travellers, you'll have peace of mind knowing this wallet comes fitted with RFID protection. RFID technology is designed to block potential scammers from accessing your credit card details.
Shop Now - $39.96
Pacsafe SlingsafeTM Red Anti-theft Tote Bag
The Pacsafe red tote bag is the statement bag you can show off at work every day. Roomy enough to store all your essentials, it includes a padded laptop sleeve, a zippered front pocket for storing items you need quick access to, as well as a key clip and attachment ring for your purse or wallet. Featuring RFID protection and a security buckle, it'll keep your belongings safe throughout the day.
Shop Now - $83.96
Samsonite B-lite 3 Red Beauty Case
This super stylish red case is as practical as it is pretty. Designed to withstand the wear and tear of air travel, it's made out of a highly durable material. The main compartment is spacious with a divider in the middle, and has internal mesh pockets and loops so all your beauty products can be packed away securely; no need to leave anything behind due to lack of space!
Shop Now - $83.00  
Pierre Cardin RFID Red Leather Wallet
In need of a red leather wallet? This Pierre Cardin wallet has all the necessary features for everyday use. Made with genuine Italian leather for long-lasting durability, it includes three zippered compartments, an ID card window, eight card slots, and 6 receipt compartments. And to keep your personal information secure, the wallet is fitted with RFID security.
Shop Now - $71.96
Serenade Philadelphia Red Leather Tote
Go to work feeling sophisticated each day with this ultra-chic red leather handbag on your shoulder. This tote has been crafted with genuine cowhide leather to endure everyday use, and metal studs fixed on the bottom to protect against scratches. The roomy main compartment has two interior pockets and a large zip pocket divider, so you can easily fit everything you need for the day.
Shop Now - 
Samsonite Firelite Red Suitcase
Make a fiery statement at the airport with this red luggage set by Samsonite. Not only does the vibrant colour stand out from the crowd (making it easy to spot on the carousal among all the black suitcases), it's also super practical. The ultralight shell is made from an ecofriendly material, and is also impact-resistant (a necessity for air travel). The 360o rolling wheels glide along silently, and the internal compartment is fitted with a divider for organized packing.
Shop Now -
Pacsafe MetroSaceTM Anti-theft Red Hip Pack
This red hip pack is a must-have for keeping personal items safe while travelling. To avoid bag-snatchers, hip packs are a great alternative to handbags. Pacsafe have fitted this hip pack with a range of security features to ensure you possessions don't get stolen, including a slash resistant strap made with eXomesh slashguard, RFID technology, and a security clip with three levels of security to prevent pickpocketing.
Shop Now - $83.50
Love the look of a statement red bag? You can view our whole range of red bags here.